OsteoMed Fusion Plates and Cannulated Screws
Hand Fusion Plate
The Hand Fusion Plate uses the plate screws from OsteoMed's Hand Plating System, combined with a Compression Screw from the Hand Fusion Module, to provide compression across the proximal interphalangeal (PIP) and metacarpophalangeal (MCP) joints.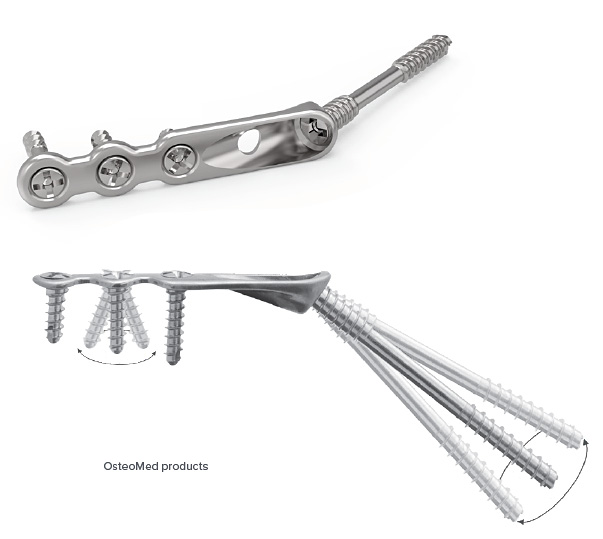 Fusion Screws
The industry's first cannulated compression screw with variable-angle locking capabilities, the Fusion Screw can lock up to 18 degrees from center, allowing for fusion of the joint at a natural resting angle.
Thumb CMC (Carpometacarpal) Fusion Plate
The OsteoMed CMC Fusion System provides a singular option to fuse the CMC joint. This plate is designed to fit the dorsal aspect of the thumb CMC articulation.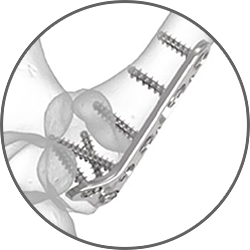 OsteoMed Cannulated Screws
OsteoMed's Headless Cannulated Compression Screws are 2.0, 2.4, and 3.0 mm and extend up to 35 mm. The 2.0 and 2.4 mm Cannulated Lag Screws can be used independently or within a plate construct.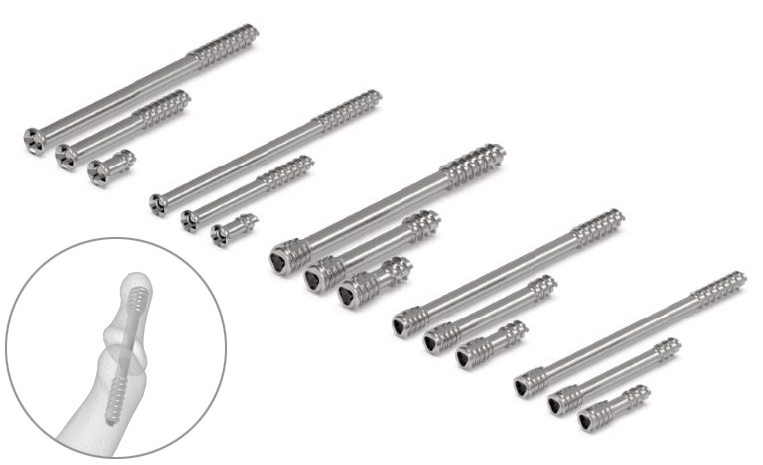 Specialty Instrumentation
HPS Fusion Instrument Block
Procedure-specific instrumentation integrates with the universal instrumentation from OsteoMed's Hand Plating System.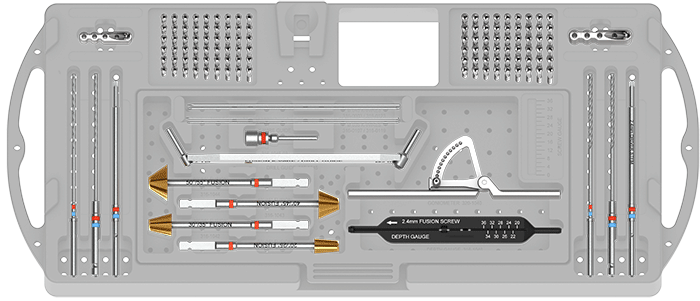 ExtremiFix Cannulated Screw System
Offers multiple screw and instrument options and sizes for fracture fixation, fusion, and osteotomy procedures.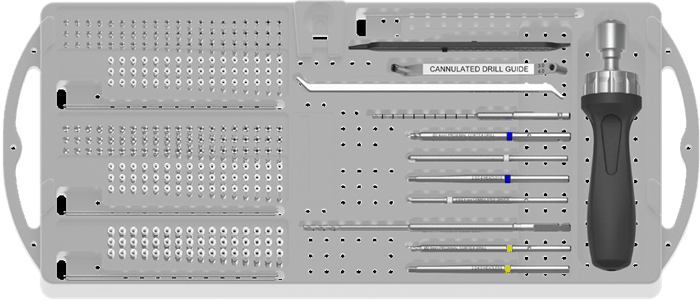 OsteoMed HPS Fusion Hand Plate Surgery
Hand Fusion combines the superior compression of the ExtremiFix headless screw with one of a kind variable angle locking technology of the HPS System.
OsteoMed Hand Fusion System ST Lab with Dr. William Geissler
Dr. William Geissler demonstrates both osteotomy cuts and the cup and cone method to create the desired fusion angle.
Perspectives on PIP & MCP Fusions with Dr William Geissler
Dr. William Geissler discusses the approach, joint surface preparation options, and advantages of the OsteoMed Hand Fusion System.
Acutrak 2® Headless Compression Screws and Acumed® Fusion Plates
Compression Screw Solutions for the Hand & Wrist
Scaphoid Fractures/Nonunions
MCP, DIP & PIP Fusions
Four-corner Fusions
Ulnar & Radial Styloid Fracture
Four-corner Fusion with the Acutrak 2 Mini
A retrospective study of patients with four-corner arthrodesis showed that, in comparison to standard fixation options, Acutrak 2 Mini headless compression screws may:
Demonstrate less chance of nonunion1
Have a greater chance of increasing grip strength and motion1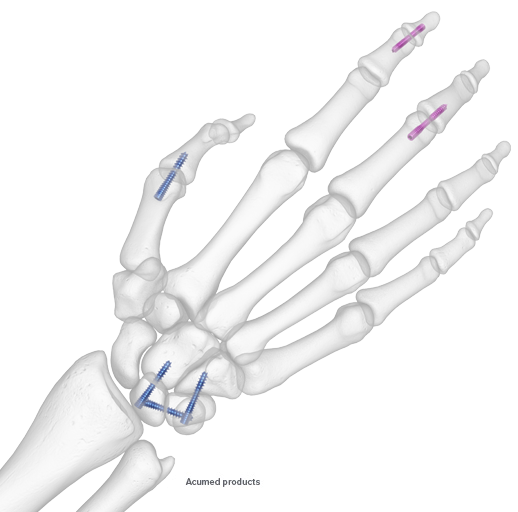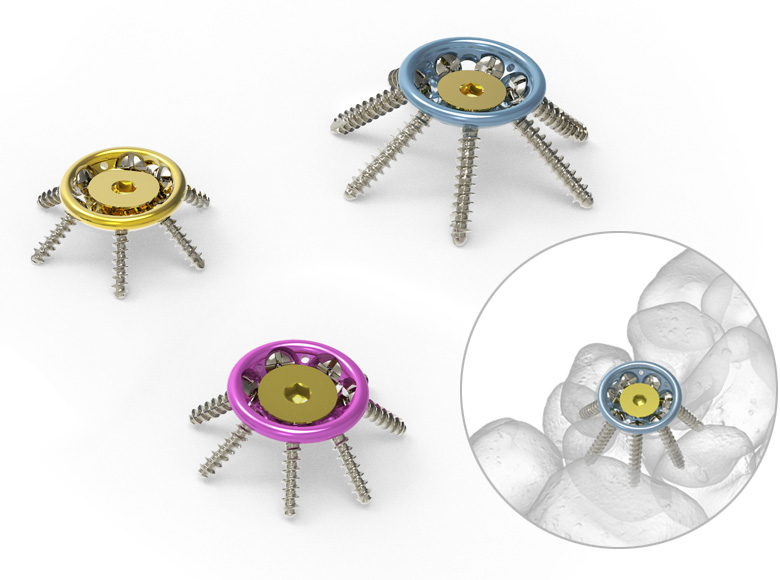 Hub Cap Fusion Plates
Designed to provide fixation and a straightforward technique for four-corner and other limited wrist fusions. They can also be used to treat osteoarthritis, post-traumatic arthritis, fractures, revision of failed partial wrist fusions, carpal instability, or rheumatoid arthritis.
Hub Cap Limited Wrist Fusion Plate
These plates feature K-wire holes and the Hub Cap Plate Post, both of which are designed to provide early stability during screw placement.

Often Imitated, Never Duplicated
Acumed's engineering know-how and manufacturing skill have forged a legacy of Acutrak quality based on a quarter century of expertise.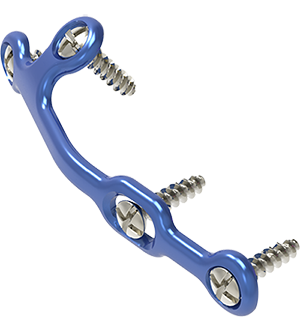 MCP Fusion Plate
The MCP Fusion Plate is designed specifically for fusions of the first metacarpophalangeal (MCP) joint of the thumb. Left (blue) and right (green) specific plates offer stability for arthritis or chronic instability of the MCP or carpometacarpal (CMC) joint.
Acutrak 2 Screw System Key Features with Derek Millman
The Acumed Acutrak 2 Headless Compression Screw System is the latest evolution in fully threaded headless screw fixation, with intuitive instrumentation designed to simplify the surgical technique. Product Manager Derek Millman takes us through the system's key features and potential applications in the upper and lower extremities.
Acutrak 2 Headless Compression Screw System Overview
This animated overview of the Acutrak 2 Headless Compression Screw System illustrates how the system is designed to treat fractures, fusions, and osteotomies of the upper and lower extremities.
Acutrak vs Herbert Screw Fixation for Scaphoid Nonunion and Delayed Union
"The Acutrak screw enabled more accurate screw placement and achieved higher union rates and modified Mayo wrist scores than the Herbert screw did."
Oduwole KO, Cichy B, Dillon JP, Wilson J, O'Beirne J. Acutrak versus Herbert screw fixation for scaphoid non-union and delayed union. J Orthop Surg (Hong Kong). 2012;20(1):61-65.
Outcomes of Four-Corner Arthrodesis Using the Hubcap Circular Plate
"The earlier techniques of four-corner fusions using K-wires, screws and staples, were not free of complications. These included non-union, incorrect lunate position, infections with the wires and hardware irritation or impingement. The development of a circular plate was welcomed as an elegant and safer alternative."
"The Hubcap plate seems to be a feasible implant to achieve a stable four-corner arthrodesis, and has demonstrated good functional results in our experience."
Khan SK, Ali SM, McKee A, Jones JWM. Outcomes of four-corner arthrodesis using the hubcap circular plate. HAND (NY). 2012;Sep;7(3):281-285 doi: 10.1007/s11552-012-9417-1. PubMed PMID: 23997733.
A Comparison of Two Headless Compression Screws for OperativeTreatment of Scaphoid Fractures
"Our study demonstrates that the Synthes headless compression screw experienced a greater loss of interfragmentary compressive force from the time of installation to the final steady state compression level. The higher post-installation compression of the Acutrak 2 Standard may be attributable to the greater number of threads throughout the entire length of the screw. The clinical significance of these results, are, at this point uncertain. We do demonstrate that a fully threaded design offers a more reliable compression that may translate to more predictable bony union."
Grewal R, Assini J, Sauder D, Ferreira L, Johnson J, Faber K. A comparison of two headless compression screws for operative treatment of scaphoid fractures. J Orthop Surg Res. 2011;6:27.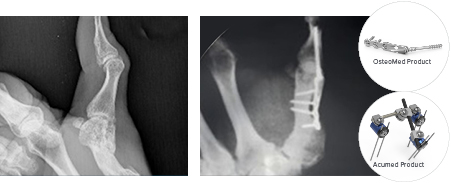 Restoring Metacarpal Length and MCP Joint Arthrodesis
Goselinus Joost Blok, MD: A 43-year-old man who sustained a low-velocity gunshot wound to his left thumb was treated with the OsteoMed Hand Fusion System after temporary stabilization with the Acumed Small Bone External Fixation System.
GFS-00123-01 Data on file at Vivorté
*Competitive data on file with Acumed.
1. Ozyurekoglu T, Turker T. Results of a method of 4-corner arthrodesis using headless compression screws. J Hand Surg Am. 2012;37(3):486–492.
These materials contain information about products that may or may not be available in any particular country or may be available under different trademarks in different countries. The products may be approved or cleared by governmental regulatory organizations for sale or use with different indications or restrictions in different countries. Products may not be approved for use in all countries. Nothing contained in these materials should be construed as a promotion or solicitation for any product or for the use of any product in a particular way that is not authorized under the laws and regulations of the country where the reader is located. Nothing in these materials should be construed as a representation or warranty as to the efficacy or quality of any product, nor the appropriateness of any product to treat any specific condition. Physicians may direct questions about the availability and use of the products described in these materials to their authorized Acumed distributor. Specific questions patients may have about the use of the products described in these materials or the appropriateness for their own conditions should be directed to their own physician.
Acumed® and Acutrak 2® are registered trademarks of Acumed LLC.
OsteoMed® and TaperLock™ are registered trademarks of OsteoMed LLC.
Vivorté®, Trabexus®, and, Fortera® are registered trademarks of Vivorté.